Dietrich's Update V19
The most important updates at a glance
We are pleased to present the highlights of this release, giving you an overview of the most important additional features of Dietrich's 19 version. Dietrich's users receive a complete list of the features provided by the update. Here you will find useful tips that apply to the improvements, optimizations and modifications available on version 19 of Dietrich's.
The main highlights : Working Planes as well as Sorting and Numbering
New additional module : D-Ref Building
See for yourself which of the enhancements are important and valuable for making your daily work easier.
Have fun and success with the new features contained in your update!
Ergonomics

Construction

NEW! Module Extension: Welding Symbols
More and more custom steel constructions are used in modern wood construction, for example for load transfer in the case of large spans or for the connection of timbers. Most steel structures are joined by welding seams. The documentation of weld seams is carried out on the drawings, to work in accordance with the National Standards: DIN EN ISO 2553, for example. Weld symbols have a complex structure therefore the new dialog-guided input function "Weld Symbol" enables you to easily and effectively communicate and identify the welding seams with the correct symbols.
The new Logic Block called "Steel Construction" is now available, which benefits from this new addition.
After creating the settings for the local standards, those can be saved, managed, easily called up via the favorites and shared with other users.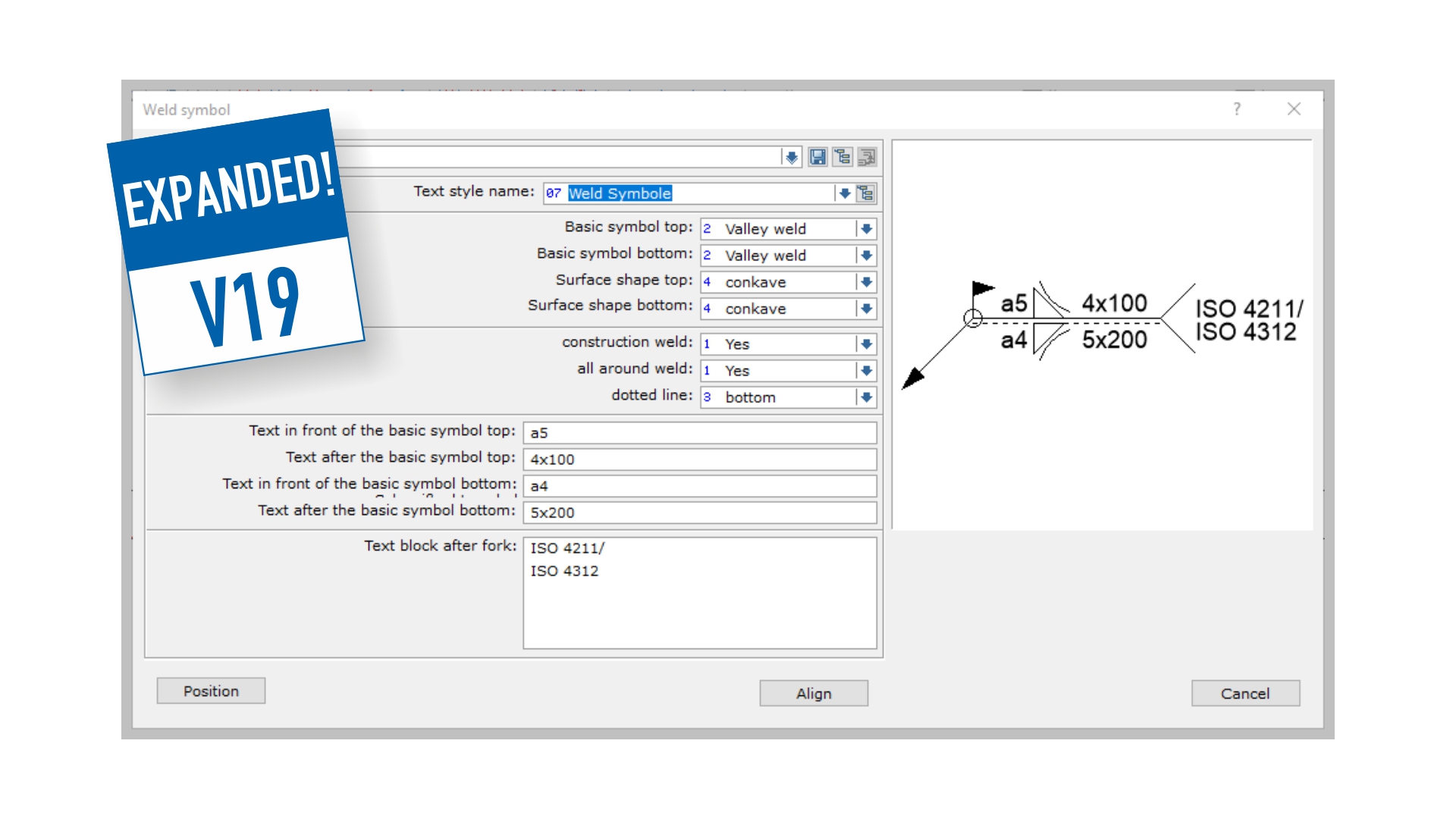 BIM|Collaborative Work

NEW! Module: D-Ref Building
The new module D-Ref Building offers you a completely new and innovative way for teamwork. With D-Ref you will be able to compare structures and easily find, track and resolve changes or collisions. D-Ref displays other structures from various projects. This new technology allows you to quickly compare different planning stages. Even the smallest changes are immediately visible.
You are able to divide a design into any number of building units. This is particularly advantageous when large buildings being constructed in phases or handled by different teams. In such cases, collision control is critical. This will show you immediately and distinguish clearly where components from the D-Ref Building collide with those of the current structure. That way it is guaranteed that all partial building units are perfectly come together during construction.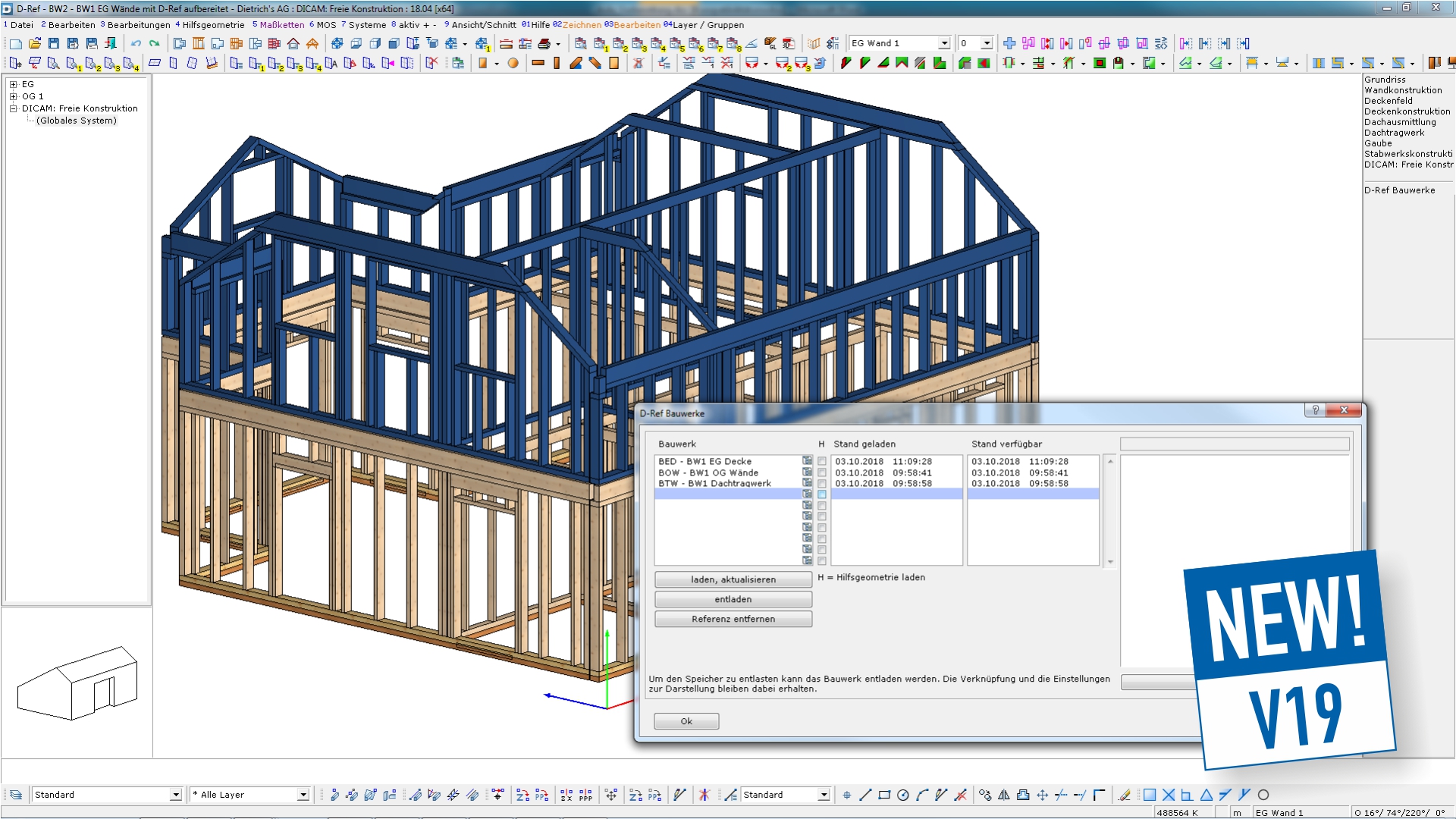 IFC Export
Specific export settings for various target systems
You want to exchange 3D Design files in an IFC file format to your partners, but their respective software does not support all IFC options. This will cause problems. With expanded IFC export settings, you are now able to take the requirements of the destination systems into account by making the appropriate settings:
Scalable assignment and grouping of components: important for transfer to Allplan, Revit, etc.
Geometry description in either CSG or BRep: important for transfer e.g. to Allplan
Geometry description of components also via SweptSolid: important for transfer e.g. to Dlubal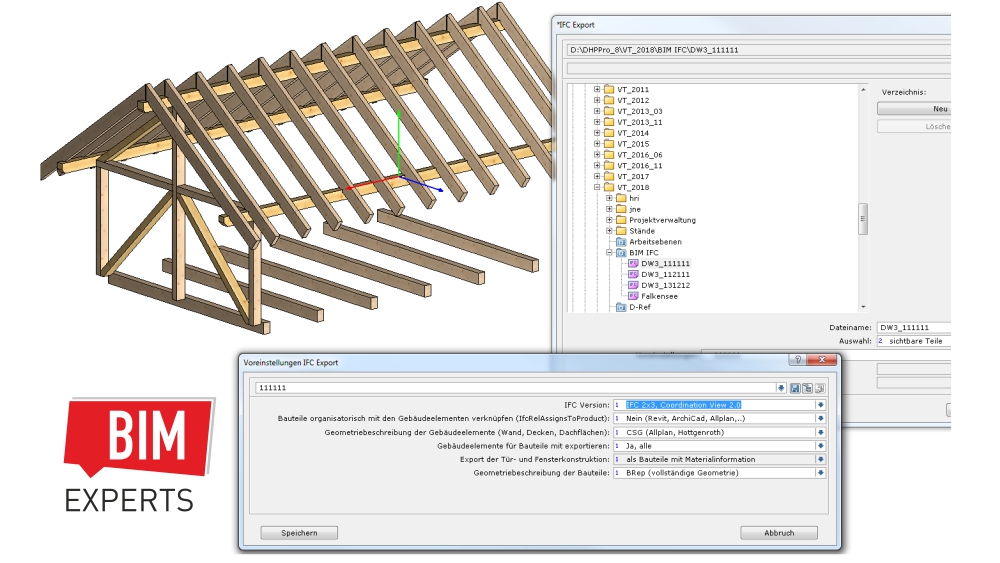 Organisation

New Sorting and Numbering
Comprehensive organization from the design model through lists and plans, up to machine files is critical for a well-functioning production process - especially when collaborating with other project participants. The sorting number (object number within the building) of the components is of key importance. The proven sorting system has been expanded to include more control and flexibility to get the desired result. Fixed Sorting numbers for assembly sequence or correspondence with static position number, etc. can be assigned as well.
Assigning of sorting number ranges to groups of components (e.g. purlins) in order to be able to recognize them by the sequence number: 100-150 for purlins, 200-400 for rafters, etc.is now possible.
An additional option can be selected to prevents duplicate numbers in the entire building. That is critical for creating CNC processing file for some machines.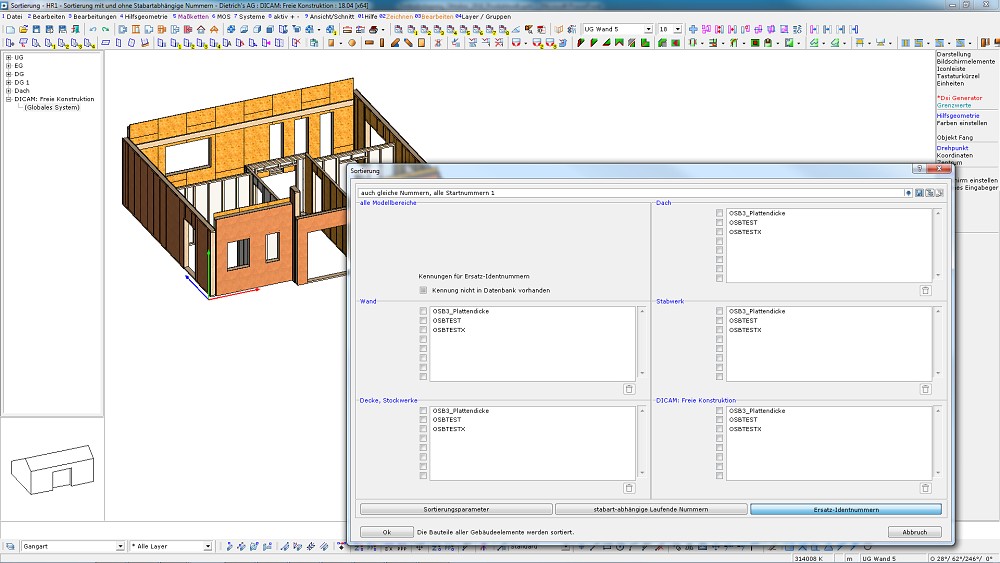 Component Assembly List
The use of subassemblies is becoming increasingly common in a building structure, especially for assembled steel components (gussets plates, custom steel connectors, etc.). The list of assemblies is now available for organization purposes, giving you a quick overview of the existing subassemblies, their assignment to building elements, total volume and weight. For easy recognition of the subassembly, an image can be stored for each line of the list. This enables, for example, better planning and faster verification list for of loading/unloading for the construction site.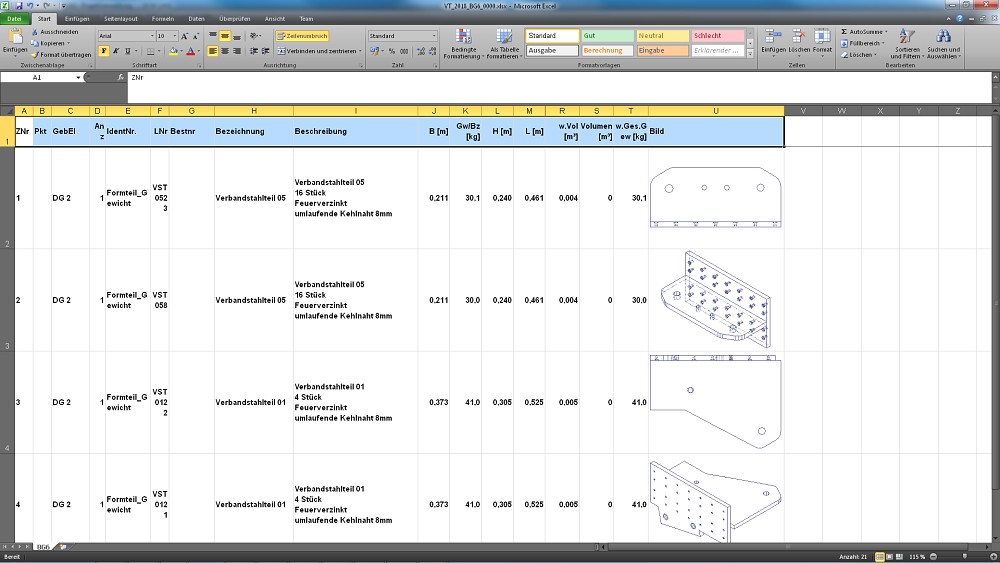 Building Element List
The various objects of a building are often organized into building elements (walls, ceilings, roof areas, frameworks). These can in addition be sup-divided into smaller production components. The building element list provides a quick overview of the existing building elements, their dimensions, visible areas, and weight. They are used, for example, for preparation and planning the stages of production, shipping/ loading and the assembly at the construction on site. Like the assembly list, the building element list also contains an illustration for fast and convenient identification of the elements and can of course be shared in different file formats or printed.